The Wyeth Hurd Family Tree
---
The following prophetic comment on the future of his family was written by N. C. Wyeth in a letter to his eldest daughter Henriette in 1939, as she moved away from her family to a new home in New Mexico:
"I believe, as I never believed before, that we, as a group, have got something - and that there is real promise of sound achievement - of major achievement in the offing."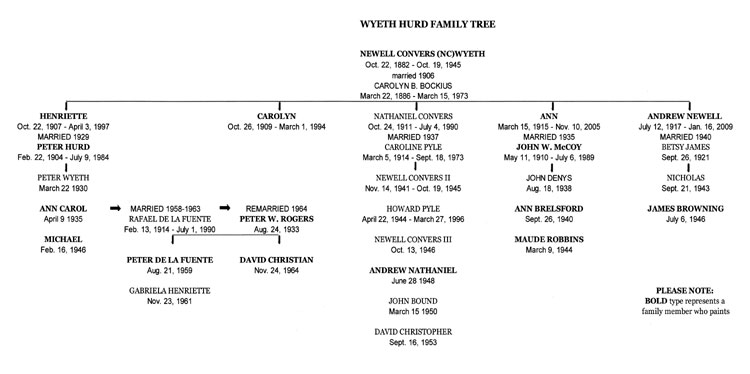 This family has produced four generations of painters with a remarkable consistency of excellence, fulfilling N. C. Wyeth's prophecy rather spectacularly. The artistic bloodline has continued not only through N. C. Wyeth's youngest and most famous son, the late Andrew, but also through N. C.'s eldest daughter Henriette Wyeth and her husband, Peter Hurd. Peter and Henriette were both students of N. C. Wyeth through the 1920s. Later, young Andrew Wyeth and his sister Carolyn began their art training under their father, along with John W. McCoy, who married N. C. Wyeth's third daughter, Ann. As evident in bold type above, all of N.C.Wyeth's child-bearing children contributed to the painting tradition as it has continued through the third generation artists, and on to the fourth, with the same commitment to hard work and honest painting... Is it environmental or genetic?
CLICK HERE TO WATCH A SHORT VIDEO INTRODUCTION TO OUR FAMILY